Nicole turns six!
Two sets of candles to blow out, so far. In the morning, Nicole wanted scones, so here she is with her birthday scone.
Then, in the evening, after opening presents and dinner at Roxy's, we had a chocolate cake.

Nanny sent a very fun tea set to paint.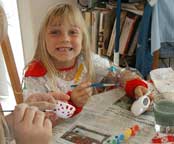 Text Navigation
Home, Events, Travel, Kids, Cats, Links, Contact, Site Map