Baja 1991 - Eclipse - Kent's pictures
This page has pictures taken by Kent LNH.
There is an interesting oasis right in the middle of the peninsula called San Ignacio, which has a church made of blocks of the local lava rock. Here's Paul standing near the stairway up the outside of the church. Even in midday, the inside was cool, probably because of the thermal mass of those thick stone walls.

Gustav Eiffel, in addition to his better known tower, also designed a church that could be built from a kit. Apparently, these are all over South America, but this one is in the coastal copper mining town of Santa Rosalia. You cannot believe how hot it was inside this all metal church!

Our base of operations for eclipse viewing was La Paz, which put on a big welcome for eclipse chasers.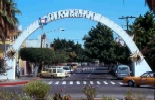 There were posters and T shirts for the occasion.
We camped at a nice campground primarily aimed at RV's but which was nice for us, sleeping on cots. Down sleeping bags may not have been the best solution.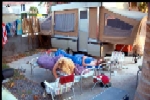 The campground was near the beach, so we did some swimming and tried out Paul's windsurfer.
Here's our carefully chosen observing site (near Torre Microonda number X), with the sun shade up in front of the van. That sun shade was really nice, given the 40C (100F)+ temperatures.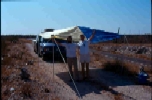 We weren't the only ones there. There was a couple of eclipse chasers from Austria, of all places as well (probably foreshadowing our own eclipse chase in 1999 to Salzburg). Gosh, I wish I remembered their names!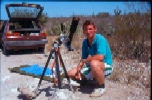 Here's some eclipse pictures taken by Kent.
We had lunch at a restaurant down on the Malencon of La Paz. Little did we know that we would wind up on TV from this, with a location crew from KGTV-10 (in San Diego) doing on-the-spot interviews.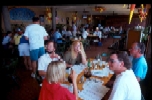 That's Sally, Jim, Jane, Doug, and Paul around the table, with Kent behind the camera.
There are numerous gorgeous bays and inlets on the Sea of Cortez. Gorgeous to look at, perhaps, but distinctly unpleasant to camp at! (no wind, hot, sticky, etc.)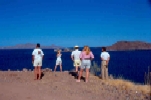 Kent commemorated the show with a statistics slide:

Text Navigation
Home, Events, Travel, Kids, Cats, Links, Contact, Site Map