Since the children had such a good time at Knowle in 2002, we decided last winter that we wanted to go again this summer. I mentioned it to Michelle Pacyna (the trainer at Fieldstone Riding Club, where they've been riding), and she thought that it would be fun to get a bunch of people together in a group. She organized a trip (eventually with 30 odd people!), and we just adjusted our travel schedules to line up with hers.
Knowle is an interesting place; it would best be described as a dude ranch in the English countryside. It's a place to go on riding holiday, where they have wonderful horses, lovely trails to hack out on, cross-country jumping, a horse-minded staff, and that happens to offer accomodations and meals. Contrast this with one of the other many country-house resort places in England which offer fine accommodations, fine dining, and incidentally can arrange for you to ride.
Knowle Manor is a 150 year old (or so) manor house that has been divided up into 20-odd rooms on the two upper floors, leaving a bar, a lounge, and a dining room on the ground floor. We had a room on the top floor with a double and two single beds, and with a couple windows.
Samantha and Nicole found their beds handy for reading
Here's the view out our window (looking down on the front lawn of Knowle)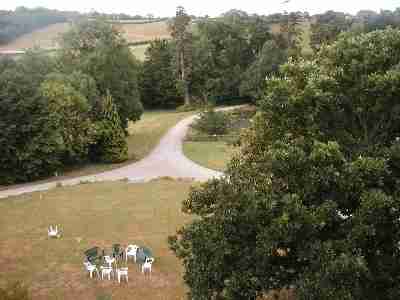 Knowle is near Dunster, the village around Dunster Castle. That's the castle in the background, overlooking the main street. Like most of these medieval cities, the streets are quite narrow. It must have been quite a challenge for the bus carrying the rest of the Fieldstone group to make it through.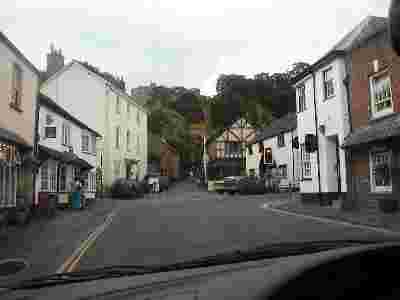 Hacking (what we call trail riding, here in California) is done in groups of 6-8 with a leader.
| | |
| --- | --- |
| Some of the trails are incredibly steep. The horses have huge, tough feet and sturdy legs. | Here's another group going by on an adjacent path. |
First thing in the morning (about 730AM) you have to go out and bring the horses in from pasture and put them into loose boxes or tie them up in the stable yard. (I didn't get any good pictures here, but maybe someone else did?) Then you go and eat breakfast, returning afterwards to tack up for the day's ride. Each horse has its own saddle and bridle hanging in the tackroom. Here's Sally on Bridey, all ready to go, and Nicole and Sami on Blossom and ?.
One of the best parts about Knowle is the countryside and paths you can hack on.
Here's a view looking down on Minehead (a beach resort town a few miles from Knowle). You can't see it too well in the photo (because it's hazy), but that's Wales on the other side of the Bristol Channel.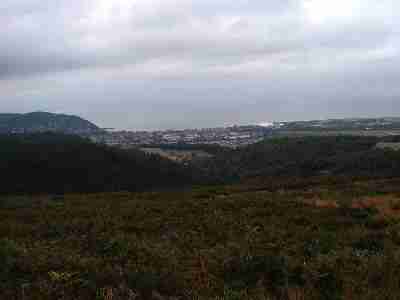 travel/engsum2004/knowle.htm - 15 August 2004